Cappadocia ATV Tours
In this article; you will find all the info that you need to know about Cappadocia ATV tours.
There are many companies that rent ATVs in Cappadocia. They organize Cappadocia ATV tours for you to visit the unique valleys and fairy chimneys. If you like adrenaline or want to relieve stress; you can have a pleasant time with the tours organized by these companies.
Firstly, you do not need to have a driver's license to ride an ATV. Even if you are driving a vehicle for the first time; after a short briefing, you will feel confident. ATVs are ideal for nature exploration because they are designed for desert, snow, and asphalt. You can experience adrenaline-filled minutes in the field with actions such as; going through the mud while wandering and getting wet while passing through the water.
Where and How to Take a Cappadocia ATV Tour?
Secondly, you can choose the route alternatives created by companies that rent ATV and you can go to these regions with a guide. Swords Valley, Güllüdere Valley, Kızılçukur Valley, Çavuşin Town, Love Valley, Paşabağ, Uçhisar, Güvercinlik Valley and Devrent Valley are the points within the route drawn on ATV tours.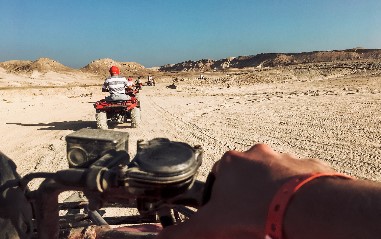 The duration of ATV tours classified as Short, Standard, Long, and Premium tours. For instance, they can start from 1 hour to 2, 3, and 4 hours. There are agencies that rent ATV for half a day or a full day. Especially for Cappadocia ATV tours; the most popular hours are sunsets. Many companies organize ATV tours under the name of sunset tours.
You can ride ATVs as a single or with a friend. Although some companies that rent ATV do their tours on private tracks in the valleys that only they can use; the floors of all valleys in Cappadocia are suitable for driving an ATV. You will be informed about the route and usage. After that, you go on a short warm-up tour.
Cappadocia ATV Tour Prices
Although ATV tours vary according to the seasons; the average price is between 175 TL and 200 TL (two-hour tour). You can rent ATVs with your friends. As a result, you can get discounts at certain rates. Generally, on ATV safari tours starting from Göreme. Guidance and fuel are included in the price before and after the tour. If you rent an ATV for the whole day; lunch and drinks will be included.
Tips, Information, Points to Consider on ATV Tours
Thirdly, and most importantly, there are some precautions you need to take for your safety when you rent an ATV. Companies warn you and give you materials that you will use for security purposes. Above all, you must wear a helmet during the ATV safari tour. The helmet must be of the kind called a full helmet that includes your chin. In addition, materials such as raincoats and gloves are given according to the weather. It is also important to wear an elbow and knee pad to avoid any injury.
Children under the age of 5 cannot participate in the ATV safari tour.
Regarding tour safety, there should be a maximum of 16 ATVs, except your guide.
The engine power of ATVs is directly proportional to their weight. You can speed up to 60 km. Mostly, lighter ATVs are safer as they do not speed too much no matter how much you press the gas. But if you do not have the chance to choose a vehicle in the company you have agreed with, try not to overload the gas.
In conclusion, it is so fun and adrenaline-filled event to drive an ATV in beautiful Cappadocia. Check all Cappadocia tours here.
Follow us on Instagram