5 Traits Needed to Become a Traveler
The development of factors such as technology, transportation, and security over the past 20 years has led to an increase in the number of travelers who want to travel the world every year. Although the pandemic process remains an obstacle for travelers, the return of life to normal will cause travelers to get back on the road. If you are dreaming of being one of the travelers who want to hit the road at some point in life, be sure to check out the 5 features required to become a traveler.
Choosing the right route
As in all areas of life, the experiences to be gained with small steps lead to more accurate steps in the future. It is one of the important features of a good traveler to focus on shorter routes, which can be experienced, and where the right and wrong steps can be seen, instead of routes that are very tiring and will challenge physical endurance.
The ability to manage travel budgets
When you hit the road, you will discover new places, meet new people, try new foods, and learn about yourself and the world you could not imagine. However, managing a travel budget that will ensure the continuity of all these elements is one of the first conditions to become a traveler.
Respect for the field of other cultures
Many travelers have trouble not researching or trying to learn the rules of the countries they are going to. Some problems extend to confrontation with local people and police. One of the conditions of being a good traveler is respect for the space of other cultures.
Being open to new experiences and learning
Anyone who does not avoid new experiences and tries to learn new things is one step ahead to have a good trip. Traveling the world is not just about taking distance, going on the road. Being rich in culture and being open to learning are the qualities that a traveler should have.
Be flexible to become a traveler
During travels, travelers are faced with a situation that requires flexibility almost every day. A change in the local bus schedule, bad weather, social events occurring at the destination are just some of the difficulties of the route awaiting travelers. Having a flexible structure that can adapt to such situations is another feature that a good navigator should have.
So are you ready to become a traveler? Wanna learn about our tour packages?
Follow us on Instagram
Benefits Of Traveling
Traveling helps you to expand your life in different ways. So what are the benefits of traveling?
First of all, traveling shows you how small the world is. It will help you enlarge your inner world. Because every person you know, every city you see will come with you when you leave. On the way back home; you will realize that you put much more than your belongings in your bag. As soon as you realize that there are so many different cultures and thoughts in the world; you will realize how wrong it is to stick to your own culture and mindset. You will embrace all the world's cultures and thinking structures. Because the world gets smaller as you travel and it expands within yourself. You will have the chance to learn the answer to the cliché question of years; "who reads a lot or does one who travels a lot".
Traveling is the one that brings all of these to you and makes your experience the most enjoyable. It offers different points of view to people in the first place. You start looking with a completely different eye. You will get excited about exploration and can't wait to see more.
So what are the benefits of traveling?
Traveling improves your problem-solving and decision-making skills
One of the benefits of traveling; as your ability to think analytically increases as you travel, you will benefit from your ability to solve problems and make decisions in real life. This will give you an easier lifestyle. You start to use the methods to deal with the problems you encounter while traveling in all areas of your life. Especially in your business life, you will benefit a lot from these experiences.
Buying experience, not items, will make you happier
The things you buy will make you happy for a short time after a while will drag you into unhappiness. What we are looking for is not instant happiness. You will realize that the money you spend on this journey is worth it. Experiences you get from traveling will add life-long happiness to you. Even just buying a flight ticket will be enough to open the doors of happiness to you. With the benefits of the places you visit and see; you will increase your experience by making the best investment in yourself. Turning your thoughts and dreams into reality will make you a happy person. Each goal you realize will encourage you to do more and bigger. Thus, your happiness will increase as your dreams come true. A new experience is one of the important outcomes for the benefits of traveling.
You get to know yourself better
Other benefits of traveling; You will have the chance to learn what you like, what makes you happy, scared, and excited with many different experiences. If you are traveling alone, you will have the opportunity to see your own limits. Since you will be alone, you will have to do everything by yourself. You will challenge yourself and take pride in discovering what you have achieved. This will increase your self-confidence. Problem-solving on your own and making your own plans will reduce your dependency on other people in real life. You start to let go of your fears. Most of the time, you will learn that ignorance is the source of fear, and as your knowledge increases, you will begin to overcome your fears. It will start to become fun to take on your fears and defeat them. Many people hit the road just to get to know themselves.
You live a more planned life
One of the benefits of traveling is you improve your planning skills. Going out of where you live, away from your daily life routine will push you to plan. Because you are out of your usual situation; you need to plan for what you will do. You will also need to plan the next day or a few days ahead. In this way, you can anticipate any possible troubles and prepare yourself for possible situations. As you make a plan, you will be prepared for any problems that may arise. The planning skills you gain while traveling will benefit you for the rest of your life.
You become an open-minded person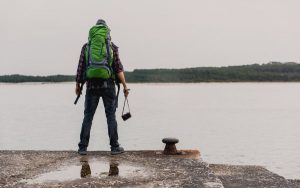 Living in other cities in a completely different way will teach other people to be more respectful. It is now a matter of time before you give up your thought that you call indestructible. You begin to stop judging people, excluding people because they are different from you. You even begin to become more open to differences. Because now you know that differences will add a lot to you. You will notice that the differences enrich you even more. The more you see a new place, the more people get to know you; the more positive you will add to your personality.
You learn to settle for less
Being away from home will surely compare you with unexpected results. You learn to handle your tight budgets to deal with these problems. Most of the time little will be enough for you. In this way, you will learn to take maximum advantage of the limited possibilities you have. When you realize that you cannot get these experiences from books; you will better understand the value of the moment you live in. Thanks to this feature of travel, you will experience that life does not always mean having more.
You make new friends
Making different friends from different parts of the world will both expand your circle. It will also increase your chances of getting to know different cultures. To get to know a region, it wouldn't be more knowledgeable than a local. The friendships you get from the places you go to give you the opportunity to keep your memories alive. Because you can remember a person more easily from a place you have visited. You will have many unforgettable stories to tell, and you will feel with them every time you tell these stories. The moment you realize that these stories are the elements that make you who you are, their value will increase for you as well.
You understand the value of your loved ones
If you are traveling alone, you will understand the value of your family, friends, pet you leave behind. This makes you to realize that you actually need them at any moment. You can live without them, but your life is better with them.
You improve yourself
There is a huge difference between the person you pick up your bag and leave the house and when you come back home. You are no longer the same you; even begin to look at your room in a different way. You start to notice things that you did not notice before. Because your perception has opened up and expanded. Your level of awareness increases. You become more sensitive to events and the environment. The more you become aware, the more you will improve yourself.
Your human relationships improve
Traveling allows you to be more comfortable and assertive in human relations. If you are a shy person, you can overcome it by traveling. Your empathy skill will grow stronger with the number of people you communicate with. You will be more successful at guessing the other person's feelings and thoughts. In this way, when you build relationships with people, you become more professional. You can understand why and how people do what they do; how they react under certain conditions. As you understand people, you begin to understand yourself better.
These are just only a small part of the benefits of traveling. Wanna learn about our tour packages? So where are we going? How about planning?
Follow us on Instagram
Cappadocia ATV Tours
In this article; you will find all the info that you need to know about Cappadocia ATV tours.
There are many companies that rent ATVs in Cappadocia. They organize Cappadocia ATV tours for you to visit the unique valleys and fairy chimneys. If you like adrenaline or want to relieve stress; you can have a pleasant time with the tours organized by these companies.
Firstly, you do not need to have a driver's license to ride an ATV. Even if you are driving a vehicle for the first time; after a short briefing, you will feel confident. ATVs are ideal for nature exploration because they are designed for desert, snow, and asphalt. You can experience adrenaline-filled minutes in the field with actions such as; going through the mud while wandering and getting wet while passing through the water.
Where and How to Take a Cappadocia ATV Tour?
Secondly, you can choose the route alternatives created by companies that rent ATV and you can go to these regions with a guide. Swords Valley, Güllüdere Valley, Kızılçukur Valley, Çavuşin Town, Love Valley, Paşabağ, Uçhisar, Güvercinlik Valley and Devrent Valley are the points within the route drawn on ATV tours.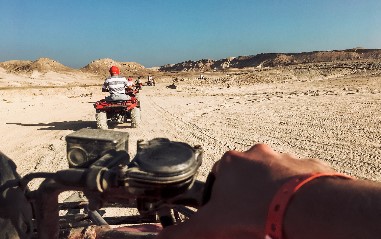 The duration of ATV tours classified as Short, Standard, Long, and Premium tours. For instance, they can start from 1 hour to 2, 3, and 4 hours. There are agencies that rent ATV for half a day or a full day. Especially for Cappadocia ATV tours; the most popular hours are sunsets. Many companies organize ATV tours under the name of sunset tours.
You can ride ATVs as a single or with a friend. Although some companies that rent ATV do their tours on private tracks in the valleys that only they can use; the floors of all valleys in Cappadocia are suitable for driving an ATV. You will be informed about the route and usage. After that, you go on a short warm-up tour.
Cappadocia ATV Tour Prices
Although ATV tours vary according to the seasons; the average price is between 175 TL and 200 TL (two-hour tour). You can rent ATVs with your friends. As a result, you can get discounts at certain rates. Generally, on ATV safari tours starting from Göreme. Guidance and fuel are included in the price before and after the tour. If you rent an ATV for the whole day; lunch and drinks will be included.
Tips, Information, Points to Consider on ATV Tours
Thirdly, and most importantly, there are some precautions you need to take for your safety when you rent an ATV. Companies warn you and give you materials that you will use for security purposes. Above all, you must wear a helmet during the ATV safari tour. The helmet must be of the kind called a full helmet that includes your chin. In addition, materials such as raincoats and gloves are given according to the weather. It is also important to wear an elbow and knee pad to avoid any injury.
Children under the age of 5 cannot participate in the ATV safari tour.
Regarding tour safety, there should be a maximum of 16 ATVs, except your guide.
The engine power of ATVs is directly proportional to their weight. You can speed up to 60 km. Mostly, lighter ATVs are safer as they do not speed too much no matter how much you press the gas. But if you do not have the chance to choose a vehicle in the company you have agreed with, try not to overload the gas.
In conclusion, it is so fun and adrenaline-filled event to drive an ATV in beautiful Cappadocia. Check all Cappadocia tours here.
Follow us on Instagram